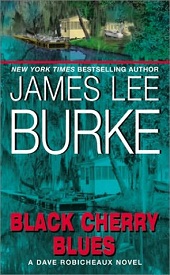 This time around, Julie and Scott discuss
James Lee Burke's
Black Cherry Blues
. This gritty story won an Edgar Award for Best Novel in 1990, and is third of Burke's
Dave Robicheaux
novels. The book is remarkable for its well-written prose and the emotional baggage carried by nearly every character. The setting is contemporary Louisiana and Montana.
And here's the podcast!
Download or listen via this link: |
Episode #003
|
Subscribe to the podcast via this link:
Feedburner
Or subscribe via iTunes by clicking: |
HERE
|
Extra Stuff mentioned in the podcast:
The Good Wife
, a CBS TV series.
Quirks and Creation, an Episode of Being
from American Public Media. A discussion with
John Polkinghorne
about science and religion. "Science and religion are often pitted against one another; but how do they complement, rather than contradict, one another? We learn how one man applies the deepest insights of modern physics to think about how the world fundamentally works, and how the universe might make space for prayer."